We all acknowledge that we must take Climate Action now. An Energy Management System offers organisations a structured systematic approach to energy management and hence Climate Action.
Energy Management Systems
Energy Management Systems (EnMS) set out a formal process for reviewing energy use in a building or organisation. These systems allow you to review your main energy using systems and set targets to improve the performance of these systems, delivering cost and emissions savings to your organisation.
The Climate Action Plan requires that all public sector organisations with an annual energy spend greater than €2m achieve certification to the ISO50001 energy management system by the end of 2024.
What is ISO50001?
ISO50001 is the internationally recognised best practice energy management system which places an emphasis on continually improving your approach to energy management year-on-year. ISO50001 certification is only achieved and/or maintained through independent external audit. Hence, organisations are held accountable for their energy consumption, energy reduction progress and system components.
There are several characteristics which set ISO50001 apart from other energy management systems and which make it the industry-leading approach to managing energy:
ISO50001 has a demonstrable requirement for continuous energy performance improvement which results in real and verifiable energy and CO2  savings.
Central to realising potential energy savings is creating an "opportunities register" of projects which will improve the existing energy systems and introduce more efficient energy equipment. This register is continuously updated with new projects and ideas, ranging from low/no cost opportunities to the adoption and implementation of new energy efficient technologies.
ISO50001 utilises a data driven approach in terms of evaluating energy performance. This is done using appropriate energy performance indicators based on real data meaning ISO50001 continuously measures and tracks energy performance.
One of the pillars of ISO50001 is fostering a collaborative environment where everyone contributes to achieving continuous improvement in energy performance. A requirement of ISO50001 is connecting with top management to ensure that Climate Action is driven from the top of the organisation and that the required resources are provided to support the system. Engaging with the wider staff is another key element of ISO50001, with all the employees of an organisation being encouraged to submit energy saving ideas.
This approach to managing energy use can and has been adopted with great success by business of all size, scale and sector (including transport) throughout the world. Implementing ISO50001 is a clear statement that your organisation is leading the way in Climate Action.
Benefits of ISO50001
The benefits associated with becoming certified to IS050001 energy management standard are many and varied:
Recognition as being a global leader in terms of Climate Action
Demonstration of senior management's commitment to Climate Action
Embed best-practice approach to energy management in day-to-day operations
Reduction in energy consumption, energy cost and greenhouse gas emissions
Monitoring of continual energy efficiency improvements
Wider environmental benefits by influencing your supply-chain and suppliers
Accountability for energy progress made via external auditing requirements
How Can ActionZero help?
At ActionZero we have a demonstrated track record of implementing the ISO50001 energy management system at organisations of all scales. For many years now, we have helped our clients to successfully receive accreditation to this best practice standard. But more than that, we continue to provide ongoing support to these clients to ensure theses system are maintained to the highest standard.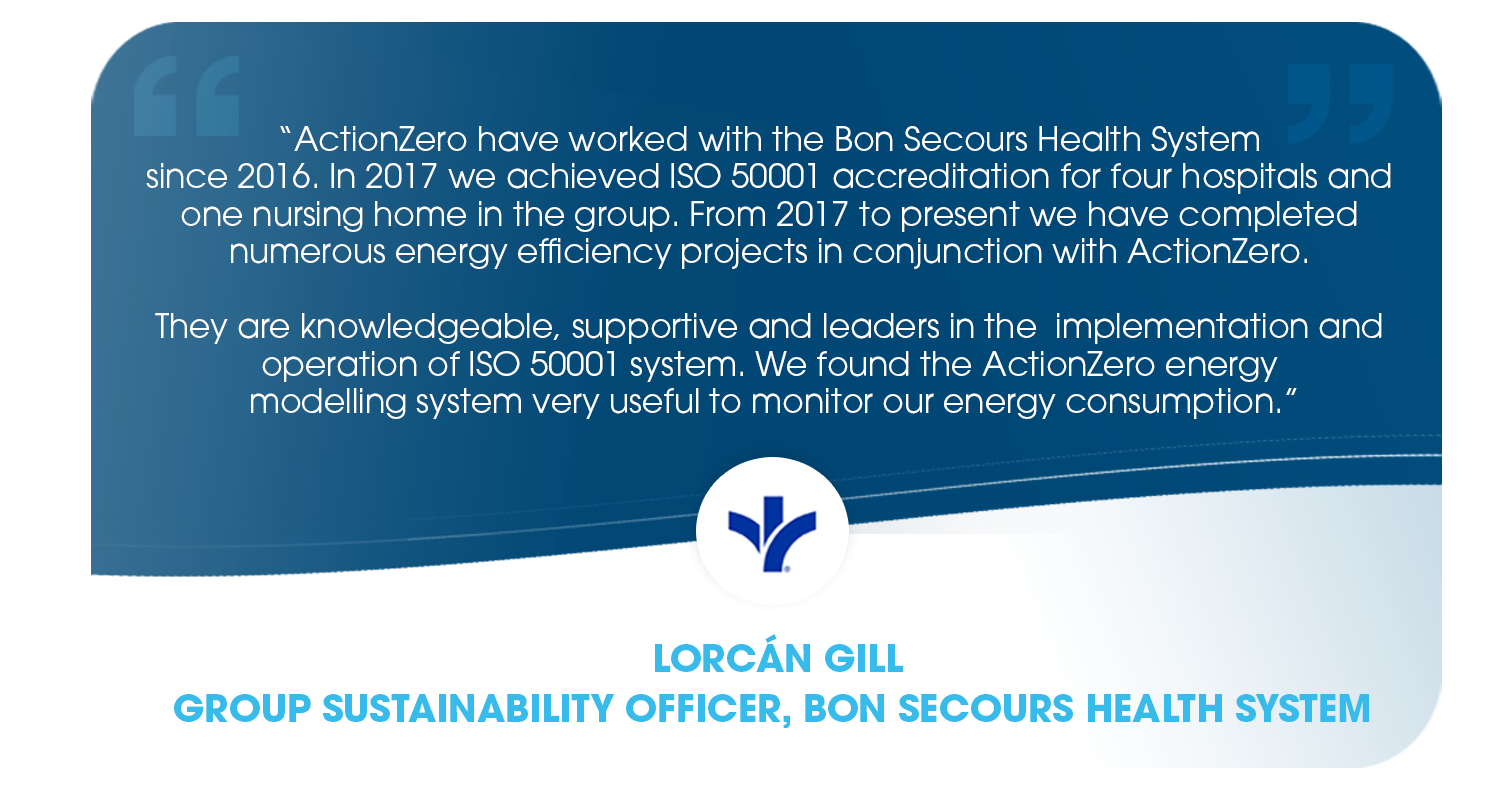 Contact ActionZero
To speak to a member of the ActionZero team about implementing ISO50001 in your organisation click here or call +353 (0) 21 4551326.
Authored by: David O'Riordan, Energy Consultant at ActionZero.