Gerry O' Sullivan, our Energy & Risk Procurement Manager and his wife Deirdre recently opened up their home to welcome a family of three fleeing the conflict in the Ukraine. This mother and her two daughters (aged 10 and 18) were forced to abandon their car in Romania, near the border with Moldova, to fly to Ireland.
Why the Car was so important
The family were very anxious to retrieve their car which was full of prized possessions they were forced to leave behind, in order to board a plane for Ireland. They also really missed having the use of a car in Ireland.
The Decision to go to Romania
I decided I would journey to Romania to recover the car. Luckily, I was able to talk my friend Tom into accompanying me and sharing the drive back home. All told, we were facing about 27 hours or 3,000 kilometers of driving across Romania, Hungary, Austria, Germany, and France before boarding a ferry for Rosslare.

The Planning
I costed up the various expenses associated with the Journey e.g., plane tickets, fuel, accommodation etc. At that point, I approached ActionZero to see if they might be willing to help Tom and I cover some of the costs. I'm delighted to say that my company and my colleagues were fully supportive of our mission.
The Journey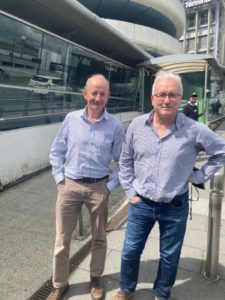 Tom and I flew from Dublin Airport to Bucharest on Thursday 19th May. Unfortunately, the flight was delayed so we didn't arrive at our hotel until 11pm local time and so had to scramble to get something to eat. The next day we caught the 8am train to Brasov where we were to collect the car. The train journey took 2.5 hours during which time we enjoyed very picturesque scenery passing through Transylvania before collecting the car in Brasov. Brasov is a very pretty ski resort and all around were the snow-capped peaks of the Carpathian Mountains.
I wish I could say it was all smooth sailing once we got the car. However, the steering took a bit of getting used to, as it was a bit loose and less responsive than we were used to. This meant that we had to concentrate that bit harder as we traversed Romania to arrive at our first overnight destination of Timisoara which is near to the border with Hungary.
The next day we were dismayed to find that we could not start the car. After some roadside brainstorming, we realised that the car fob was not working so decided to try to replace the battery. Thankfully after locating a very friendly local who had a Phillips screwdriver and a tiny battery, we got the car started and headed off again. We encountered a 2-hour delay at the border as we headed into Hungary but thankfully got through the checkpoint after a nervous wait.
We sped through Hungary to arrive in Linz Austria at 9pm Saturday night. Along the way while driving on the motorway I heard a noise from the front left of the car and noticed a piece of debris flying past the car. When we stopped, we saw that the hard plastic trim around the front left wheel had popped out and was protruding from the car. We were able to borrow a pliers at a petrol station which allowed us to cut off the protruding piece and we used masking tape to secure the balance of the fitting.
On Sunday, we set off at 9am through Austria and Germany to overnight in Nancy France. The following day we drove to a small hotel outside Rouen France. Our last day saw us make the Ferry in Cherbourg for the 1630 sailing to Rosslare.
Highlights
Despite the fact that we had to cover a significant distance in a short space of time we both found the trip to have been a bit of an adventure. Romania was the biggest surprise in that the scenery was breath-taking and the people were extremely courteous and helpful (almost all spoke English). The town of Timisoara in Romania was the standout destination and is definitely worth considering for a short stay. We could also see why Bucharest is known as the Paris of the East with beautiful old buildings and very wide tree lined streets in the Romanian capital.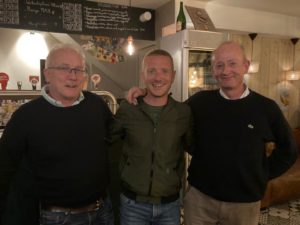 We had a pint or two along the way (as you would have to!) and in Nancy France came across a John Mullane lookalike in a local bar. He was so impressed when we showed him the famous hurling legend on youtube that he insisted on buying us a round, and naturally we had to reciprocate once or twice. It turned into a great night and seemed like a great idea at the time but when we woke up the next day we were not as fresh as we might like to have been!!
My Ukrainian guests were over the moon to get their car back and I have to say that the reaction from the 10-year-old was that of pure joy – well worth the effort just to see the very wide smile on her face.
In fact, she was so delighted that she and her family baked a thank you cake for the team at ActionZero.